This year's scholarship raffle item will be a beautiful gem tones pattern quilt made from completed squares donated by the family of a past club member, Mary Lou Batty, who passed away in 2019. Ms. Batty, an avid quilter, never got a chance to assemble the squares into a quilt before her untimely death. Club member Ms. Carla VanVrancken graciously took on the task in Ms. Batty's honor and did a wonderful job.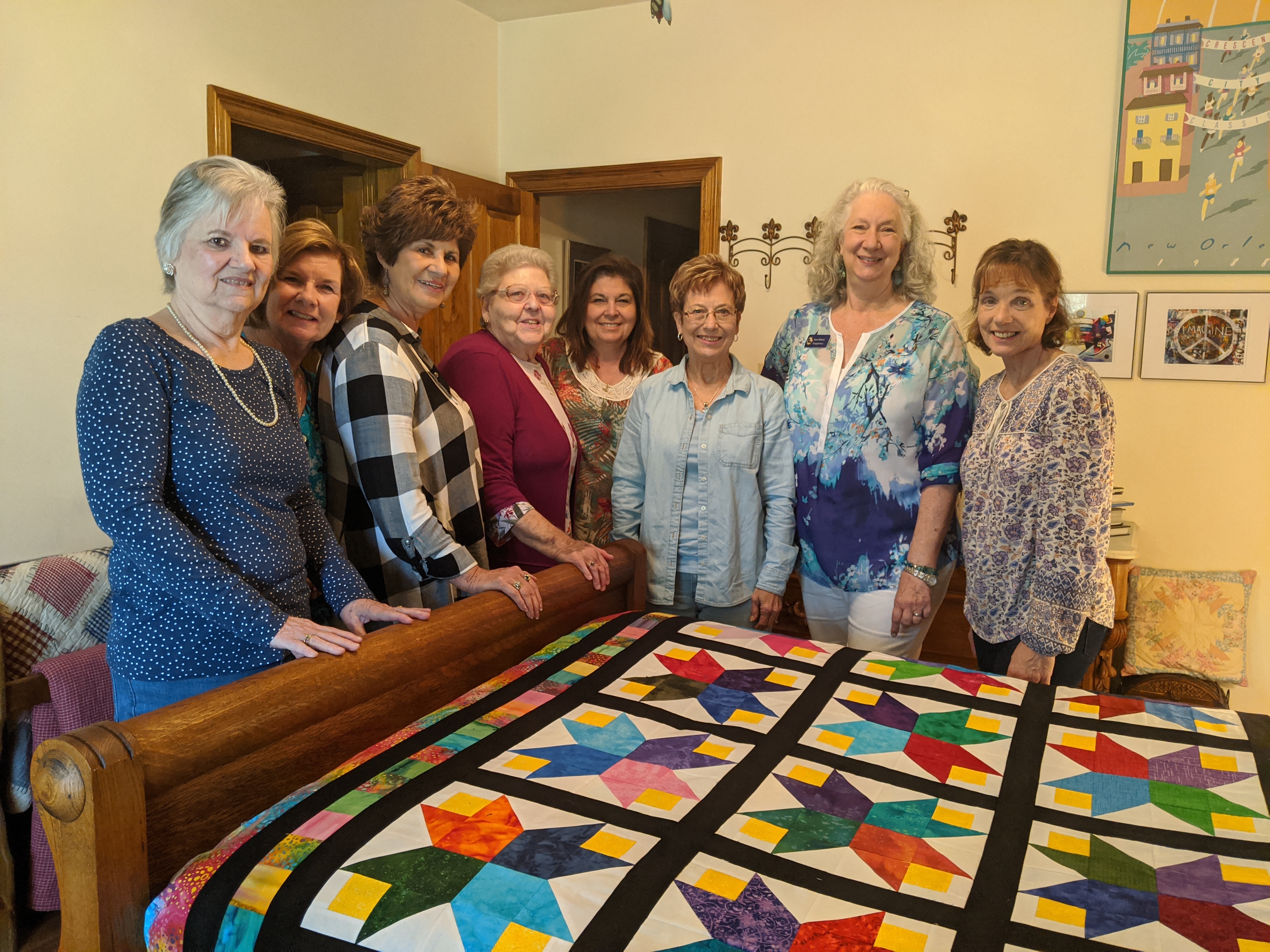 ---


On February 27, 2020 members of WVFC gathered with their oldest club member, Marie Swinney, and four guests at Mike's Catfish Inn to celebrate Ms. Swinney's 96th birthday. Ms. Swinney has been in WVFC for twenty-one years. Those club members present at the special event were Jean Hebert, Nell Dubose, Gloria Messenger, Sue Nelson, Donna Bouterie, Hilda Alphonso, and Irma Walker. (Ms. Walker is Ms. Swinney's neice.) Guests included past club member Mitzi Verberne, Julia Humphrey, and Donna Bouterie's two granddaughters Kaitlyn and Zoey.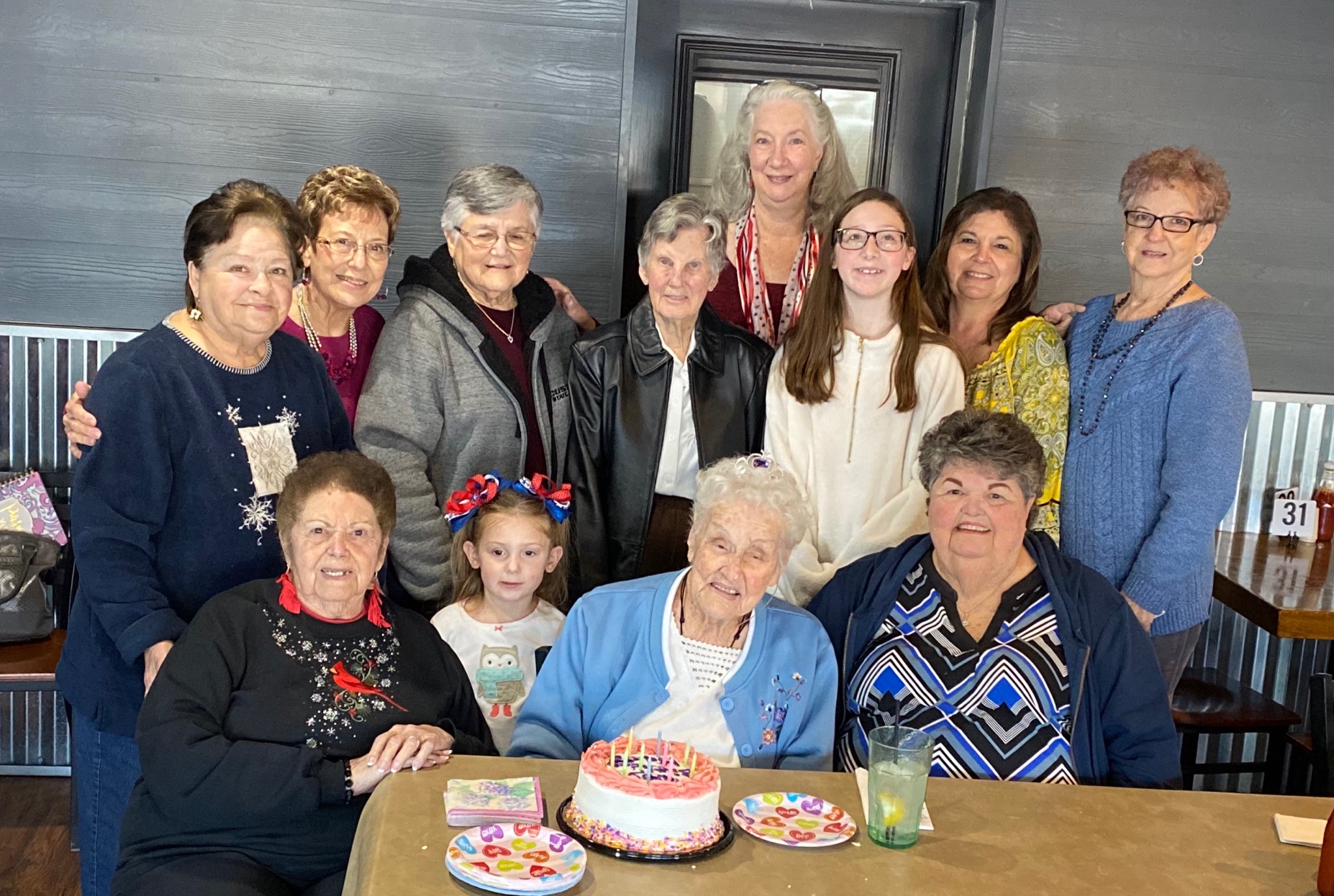 ---


Members of Wednesday Volunteers held their annual Christmas party at Murphy's Seafood, with Officer Susie Cambrie from the Tangipahoa Sheriff's Department as their special guest this year. We were pleased to be able to present Officer Susie with a check for $500 as a donation to Sheriff Daniel's Christmas Crusade for Children. This charity helps provide toys for children who may otherwise not receive any gifts.



Sitting - Gloria Davis, Hilda Alphonso, Maureen, Felder
Middle Row - Pam Villagran, Gloria Messenger, Carla VanVrancken , Nell DeBose
Back Roe - Officer Suzie Cambre, Mitzi Verberne, Jean Hebert, Millie Falgout, Betty Bankston, Sue Nelson, Karen Moran, and Donna Bouterie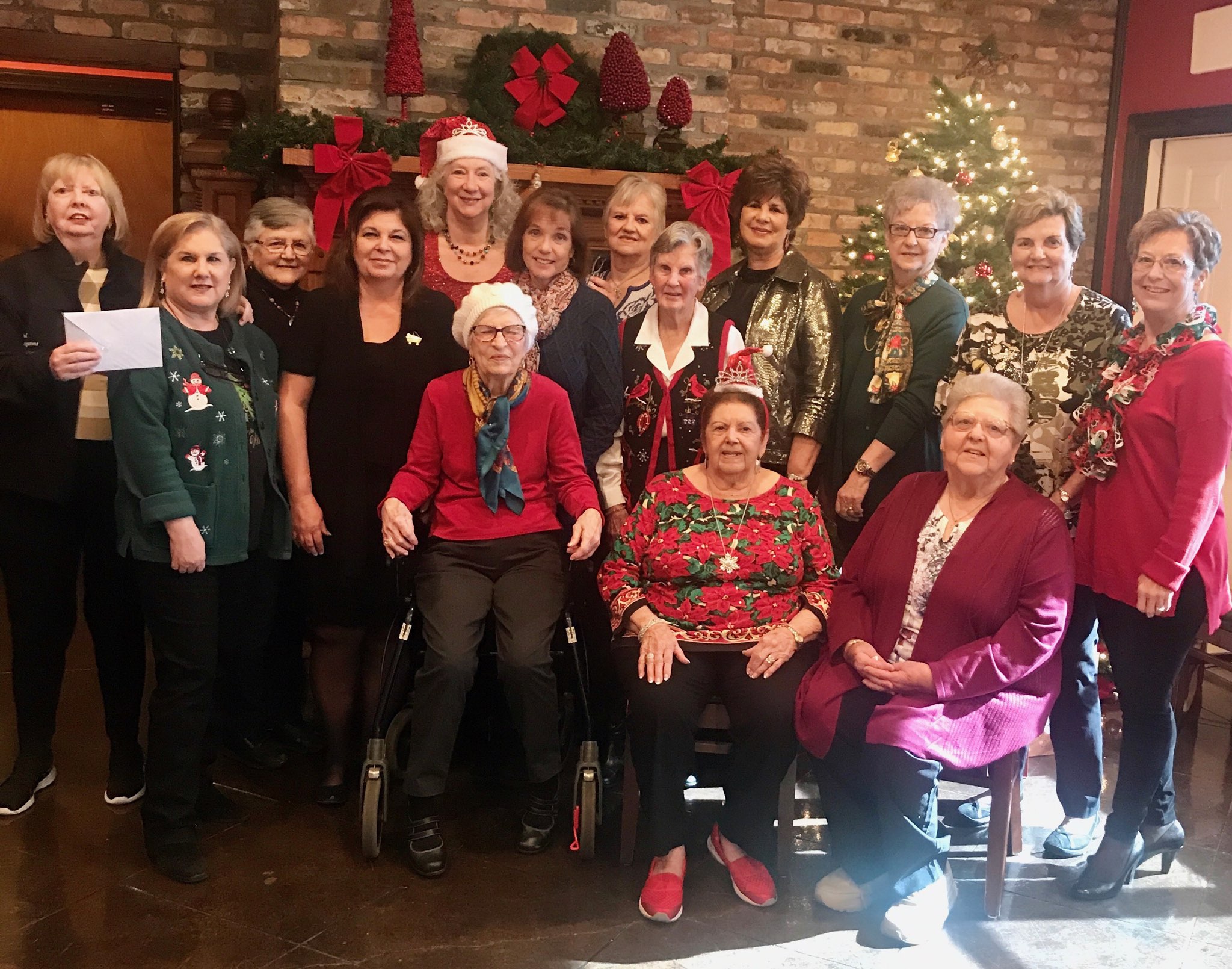 ---
Since 2017, the Wednesday Volunteers for Family and Community club (WVFC) has sponsored a bingo activity for the residents of Belle Maison Nursing Home in Hammond. Since beginning the activity, WVFC has given out Christmas gift bags at the end of November to the residents who usually attend their bingo activity. As always, Ms. Alfonso's homemade hats were the most popular item in the bags. Following the activity, club members served lemonade and holiday themed cake made by Ms. Falgout to the residents.
Left: Sitting - Justin Williams and Frankie Mitchell, Standing - Sue Nelson and Jean Hebert

Right: Front Row - Pam Villagran and Gloria Messenger, Back Row - Sue Nelson, Betty Bankston, and Jean Hebert
---
September 2019

Wednesday Volunteers were Happy to present dictionaries
to each third-grade student in our local elmentary school!
Pictured here are (L to R) Donna Bouterie, Gloria Messenger,
President Jean Hebert Lambert, and Pam Villagren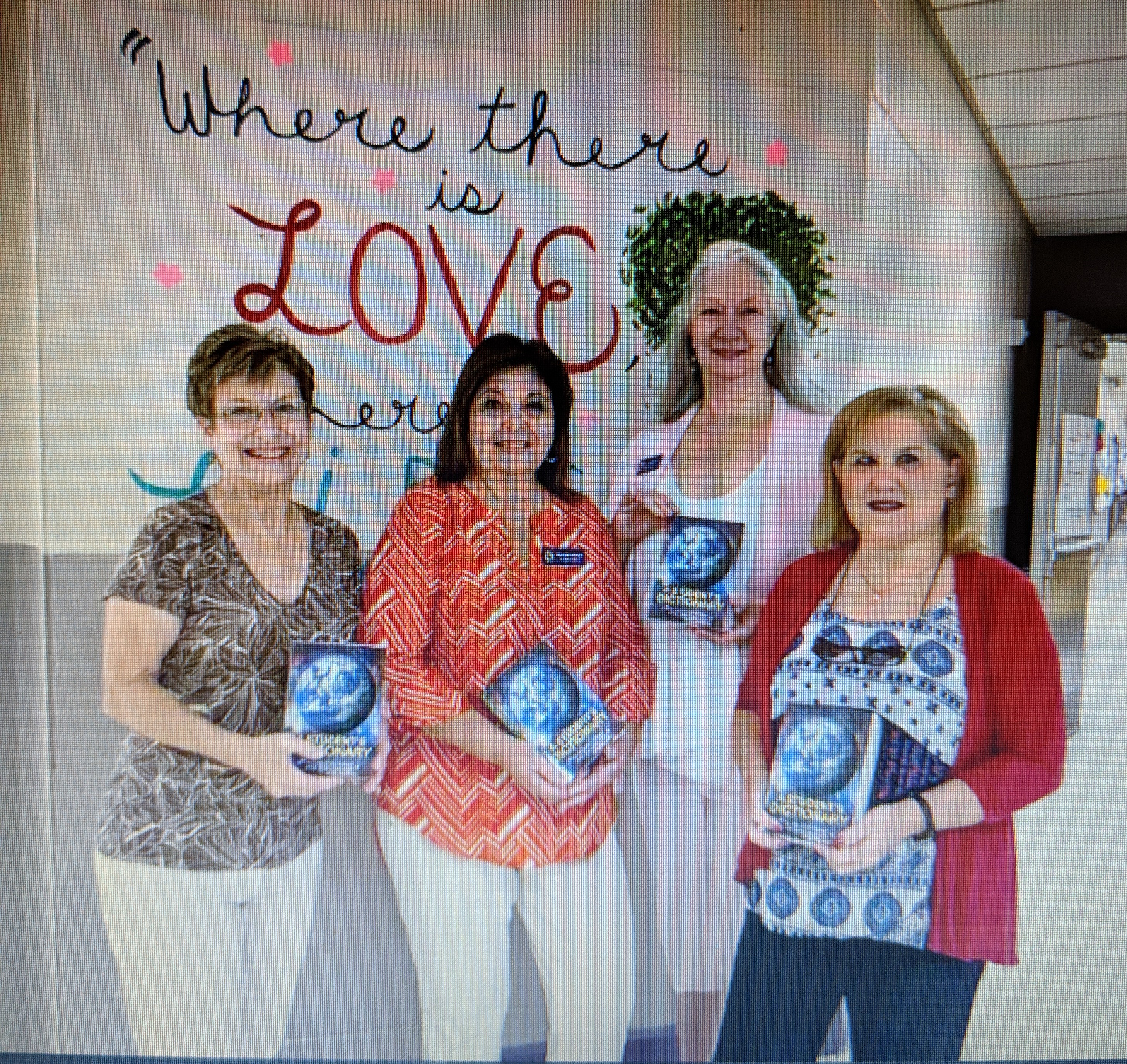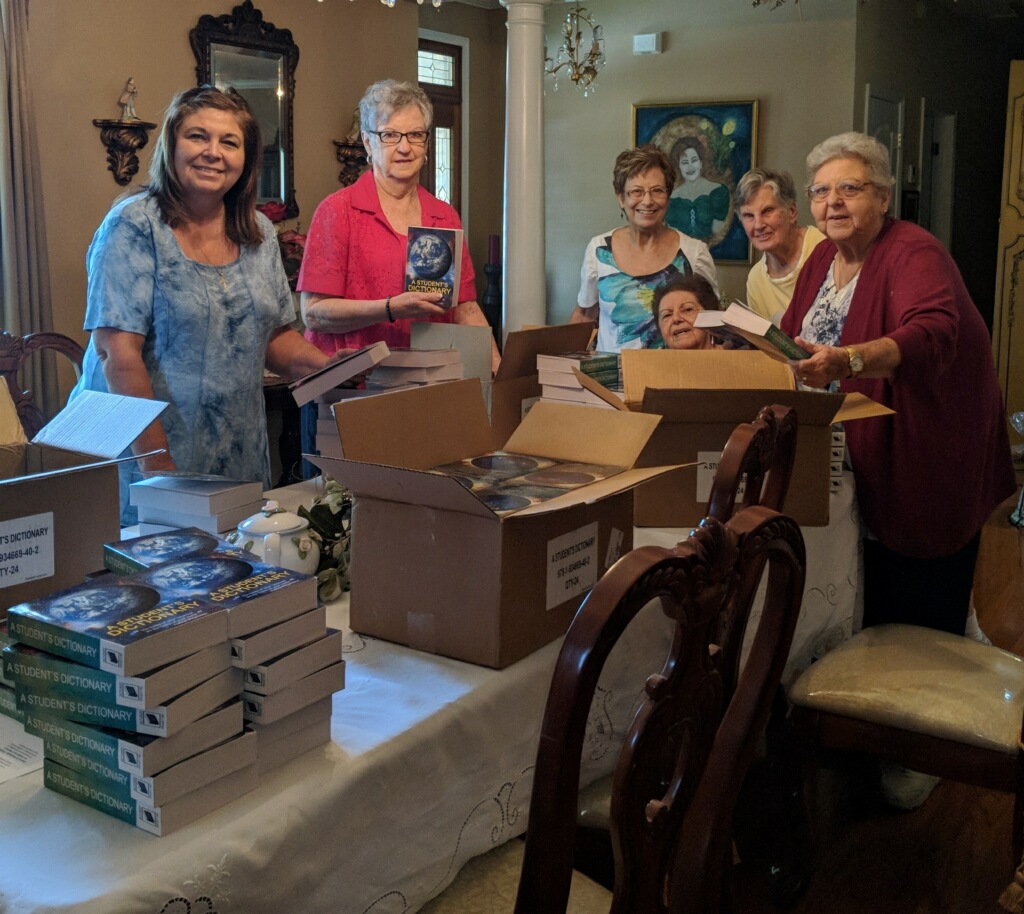 Sorting the dictionaries for the students are Gloria Messenger, Sue Nelson, Donna Bouterie, Nell DuBose, Hilda Alphonso, and Maureen Felder.

---
State Convention
The 2019 State Convention for Louisiana Volunteers for Family and Community was held May 14-16 at the Doubletree Hotel in Lafayette, Louisiana. This was the 88th annual convention for our state.

This year's featured non-profit organization for the convention was the Acadiana Therapeutic Riding Organization. This organization promotes the rehabilitation of individuals with disabilities through equine facilitated activities.

1. Wednesday Volunteers President Jean Hebert with First Timer Scholarship Award winner Karen Moran
2. Fun night at the convention. Sue Nelson, Pam Villagran, Betty Bankston, Jean Hebert, Karen Moran, Donna Bouterie, and Gloria Messenger get in the spirit of the evening.
3. Enestine Freeman, Treasurer of LVFC, accepting the raffle prize from Pam Villagean.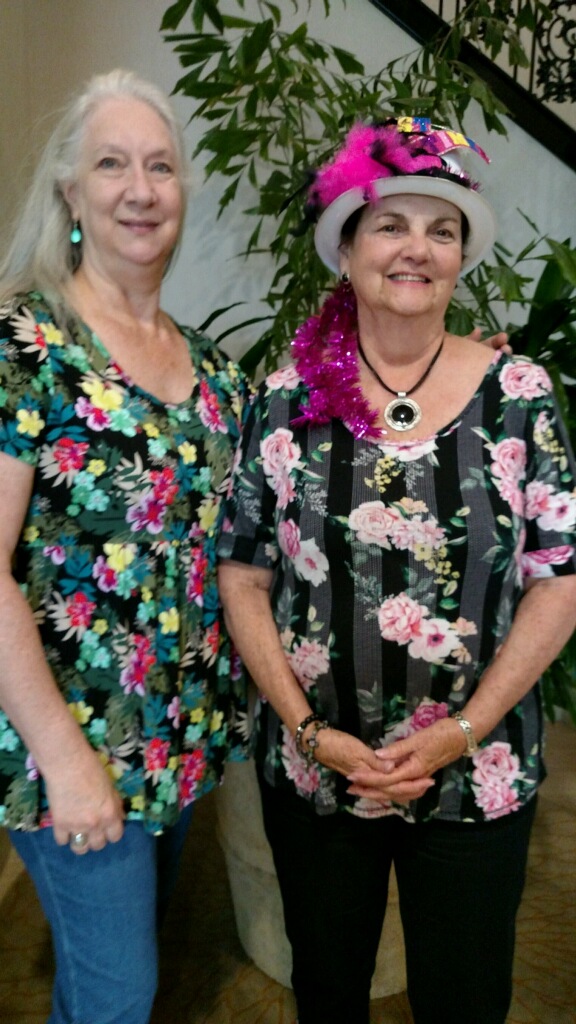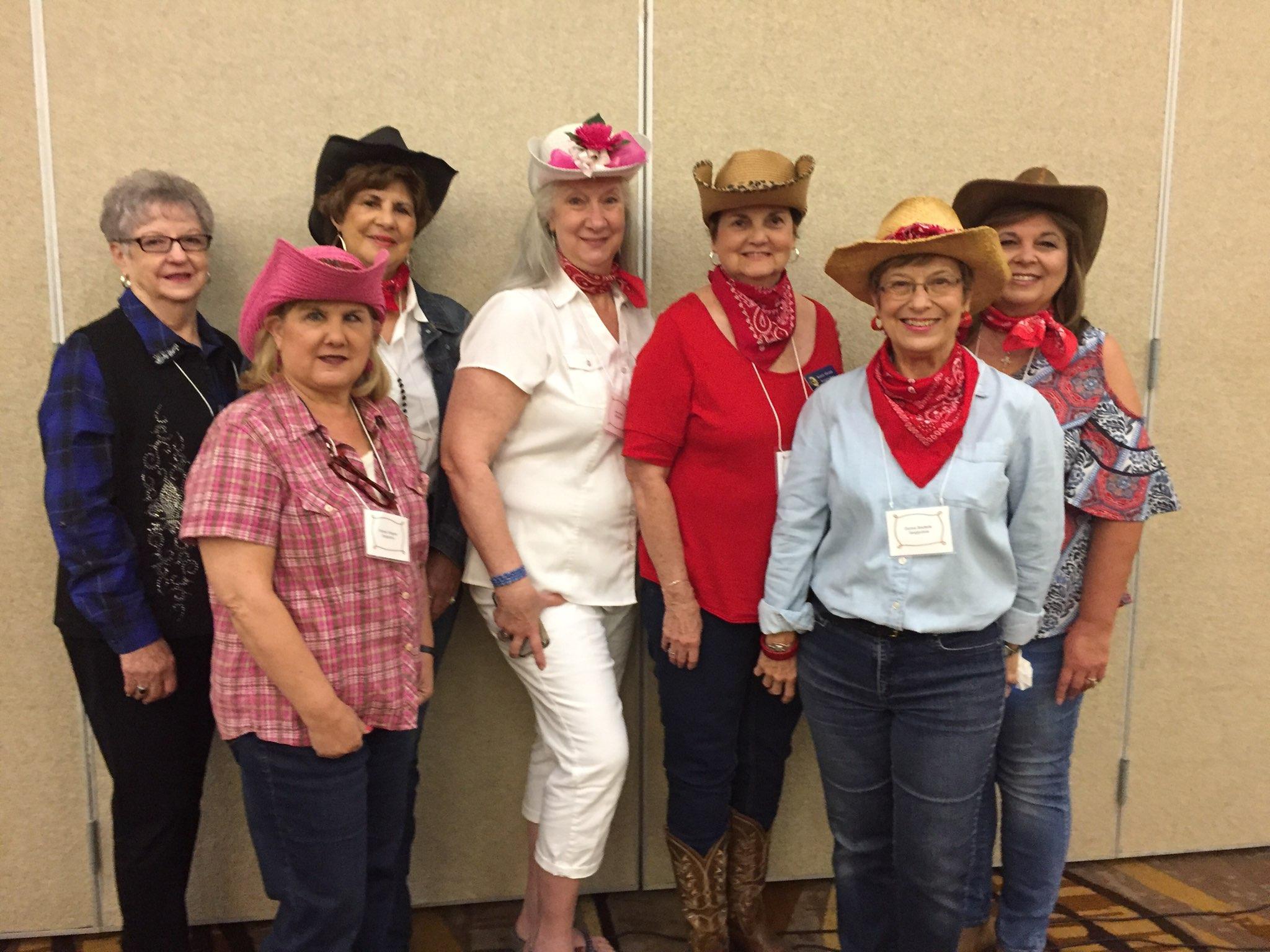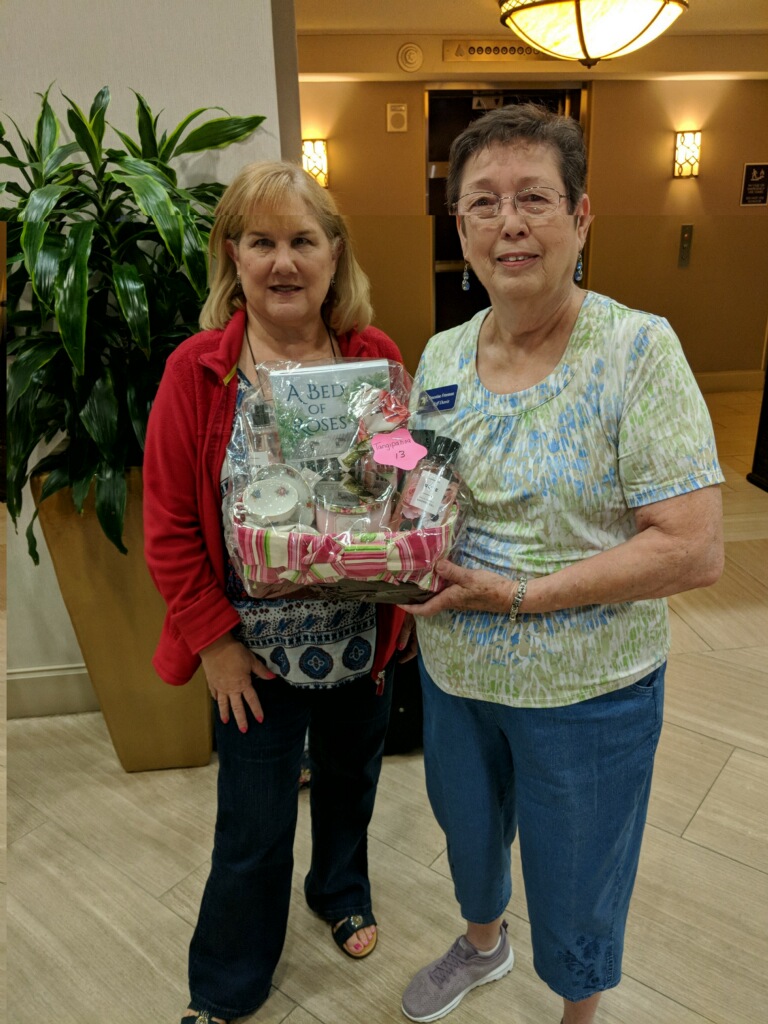 4. TVFC Treasurer Pam Villagran making the donation to Acadiana Therapeutic Riding Organization.
5.President Jean Hebert, Betty Bankston, Sue Nelson, Donna Bouterie, Pam Villagran, Gloria Messenger, and Karen Moran.
6. Sylvia Guillot, past president of Louisiana Volunteers for Family and Community installing Gloria Messenger of Wednesday Volunteers as LVFC Area 1 Director for 2020-2021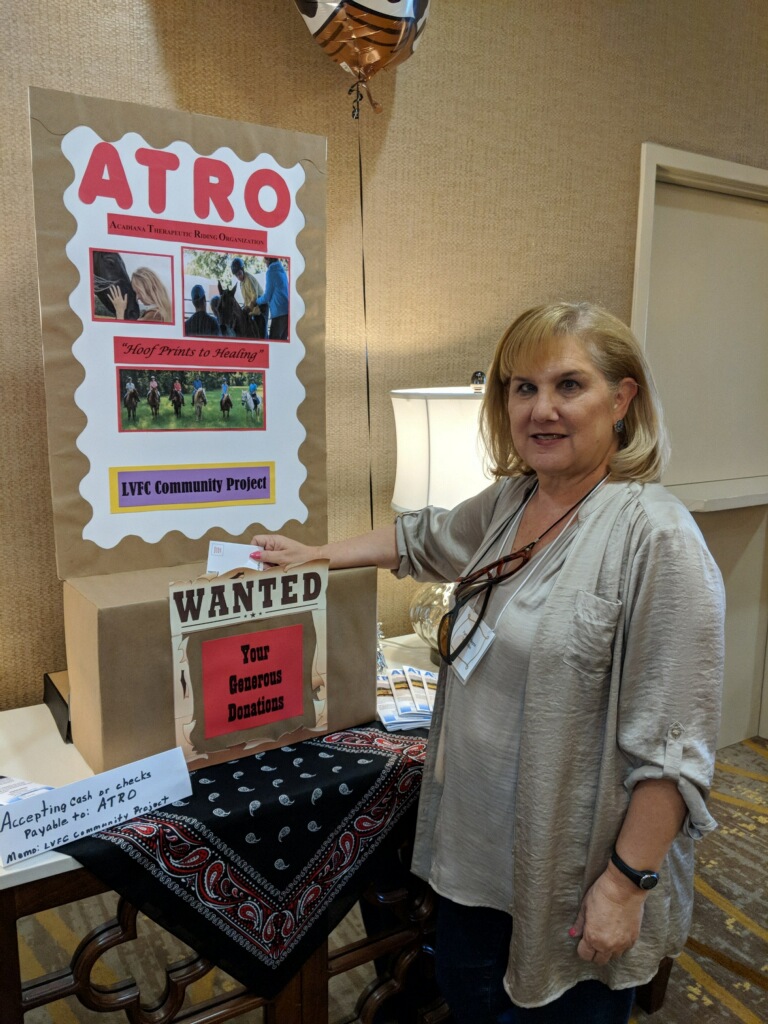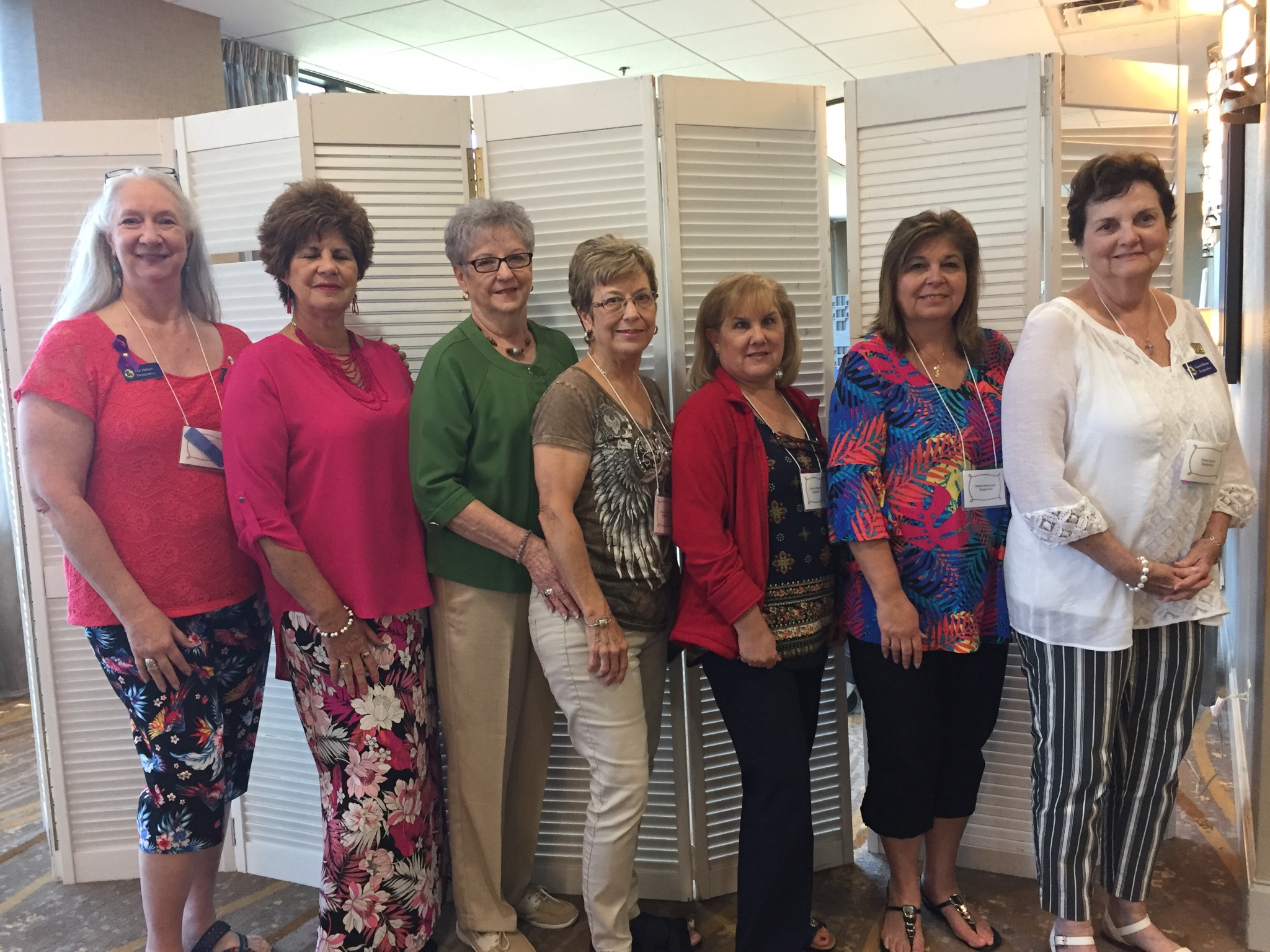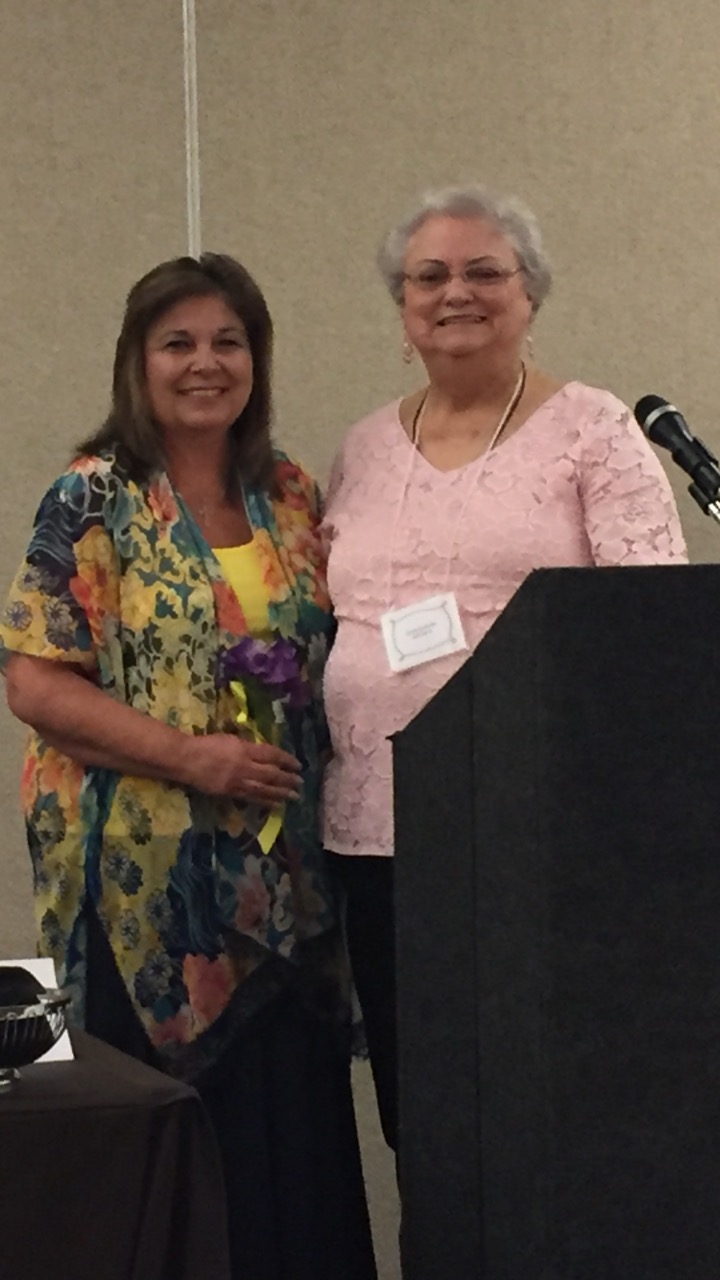 ---
Sewing Day 3/12/2019

Sitting (Left to Right) Front Row: Sue Nelson, Marie Heck, Hilda Alphonso
Second Row: Betty Bankston, Donna Bouterie, Jean Hebert
Back Row: Millie Falgout. Not Pictured/Photographer: Pam Villagran







Standing (Left to Right) Pam Villagran Millie Falgout,
Betty Bankston, Nell Dubose, Marie Heck, Jean Hebert, Sue Nelson
Not Pictured/Photographer: Donna Bouterie



---
(left) Handing out refreshments to residents at Belle Maison Nursing Home are Wednesday Volunteers members, from left, Ann Marie Kenney, Millie Falgout, Jean Johnson, Sue Nelson, Nell Debose and Margaret Felder.
(right) Delivering Christmas Bags for bingo attendees at Belle Maison Nursing Home are, from left, Jean Johnson, Nell Debose, Maureen Felder, Gloria Messenger and Ann Marie Kenney.


---




Get Involved
You Can Make a Difference!



Your support is vital to our work at TVFC. There are so many ways you can
contribute to our on-going projects, and every little bit that you commit goes
a long way in helping us to help others. Contact us to learn more about how
you can get involved, and have fun with us as we help the people of our parish!.

We are a 501(c3) organization, so your
financial donations are tax deductible!

Whether you help through your donations, volunteering your time,
or spreading our mission through word-of-mouth, thank you so much!
We couldn't accomplish our goals without the help of supporters like you.