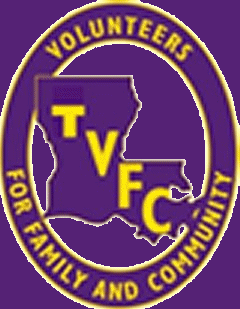 About Tangipahoa Volunteers
For Family And Community
Tangipahoa Volunteers for Family And Community is the all-volunteer arm of the LSU Ag Center Extension Service. We work with them in many ways to help families in our community. Together, we assist with promoting and judging the 4H programs, and various health and nutrition projects. Each year we also offer a college scholarship to a graduating senior from our Parish who has participated in 4H programs. This year, we were able to award two scholarships.

Formerly known as Homemaker's Club, TVFC has been in existence as long as the Extension itself. We are part of a state-wide organization originally formed in 1936. Our purpose now is the same as it was then: to serve and strengthen families in our community. We help serve the people of Tangipahoa Parish with programs encompasssing Family Life, Literacy, Environmental, and International Projects.

Tangipahoa Parish is one of 15 parishes that belong to the statewide organization, Louisiana Volunteers for Family and Community. TVFC now has two branches, Sunshine Ladies and Wednesday Volunteers. Sunshine Ladies meetings are on the first Tuesday of the month at 10 am, either at a member's home or a local restaurant. And as their name suggests, Wednesday Volunteers meet on the first Wednesday of the month.

We would be glad to welcome you to any of our meetings as our guest so you can learn about some of our projects. Send us a message or call the LSU AG Center Office at 985-748-5462 if you would like further information!