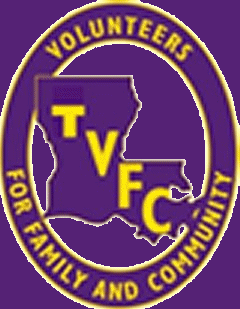 Welcome to the home of


Tangipahoa Volunteers
For Family And Community


We're glad you found us! We are a volunteer
community service organization working together
to serve the residents of Tangipahoa parish.


---






---
2019-2020 TVFC Officers






President - Marie Heck



Vice President - Programs - Ann Bourliea
Vice President - Public Policy - Ann Bourliea
Parliamentarian - Sue Nelson
Secretary - Donna Bouterie
Treasurer - Pamela Villagran
Reporter - Kathy Brandon


Environmental Chairman - Nell Dubose
Membership/Marketing - Sue Nelson
Family Life - Open
Scrapbook - Millie Falgout
Literacy Chairman - Ann Bourliea
International Chairman - Gloria Messenger
Scholarship Chairman - Jean Hebert
---
Dates To Remember
Wed. Jan. 15 Council Meeting at St. Paul Lutheran Church in Hammond, 10 am
Tues. Feb.4th - Winter Board Meeting
Tues, Feb. 11 - Sunshine Ladies Meeting at Twisted Tomato Pizzeria, 10 am
Tues. Feb. 18 - Council Meeting, 10 a, at LSU Ag Center Extension Office in Amite
Tues. Feb 18 - 4H Judging @ Amite Elementary School for Beef/Sugar Cookery & Sewing
Wed, March 8 - Council Meeting 10 am
Fri. March 10 - Dealine for State College Applications
Mon. March 30 - Deadline for TVFC Scholarship applications
April 20-22 - LVFC State Convention in Houma - POSTPONED due to Covid 19
Tues. May 19 -(tentative) - Award Luncheon - POSTPONED
Mon. June 15 - Area 1 Fun Day - POSTPONED
Wed. July 22 - Council Meeting 9:30 am @ Tourist Center - Cancelled
Wed. Sept. 23 - Set up for HIS/Bunco 10am-12 noon @ Community Center - Cancelled
Thur. Sept. 24 - HIS/Bunco 9:30 am at Community Center - Cancelled
Thurs. Oct. 22 - Council Meeting 9:30 am @ Tourist Center
Thur. Dec 3 - TVFC Christmas Party
---
Ho, Ho, Ho Holiday Market
SATURDAY, NOVEMBER 7, 2020

Ladies, We invite you to come out to the HO, HO, HO Holiday Market! TVFC will be selling craft items as well as raffle tickets for our beautiful quilt, which we will be raffling off in December! There will be several other vendors there as well, so come on out and and join us! You can get your holiday shopping done as you support a great organization and small businesses!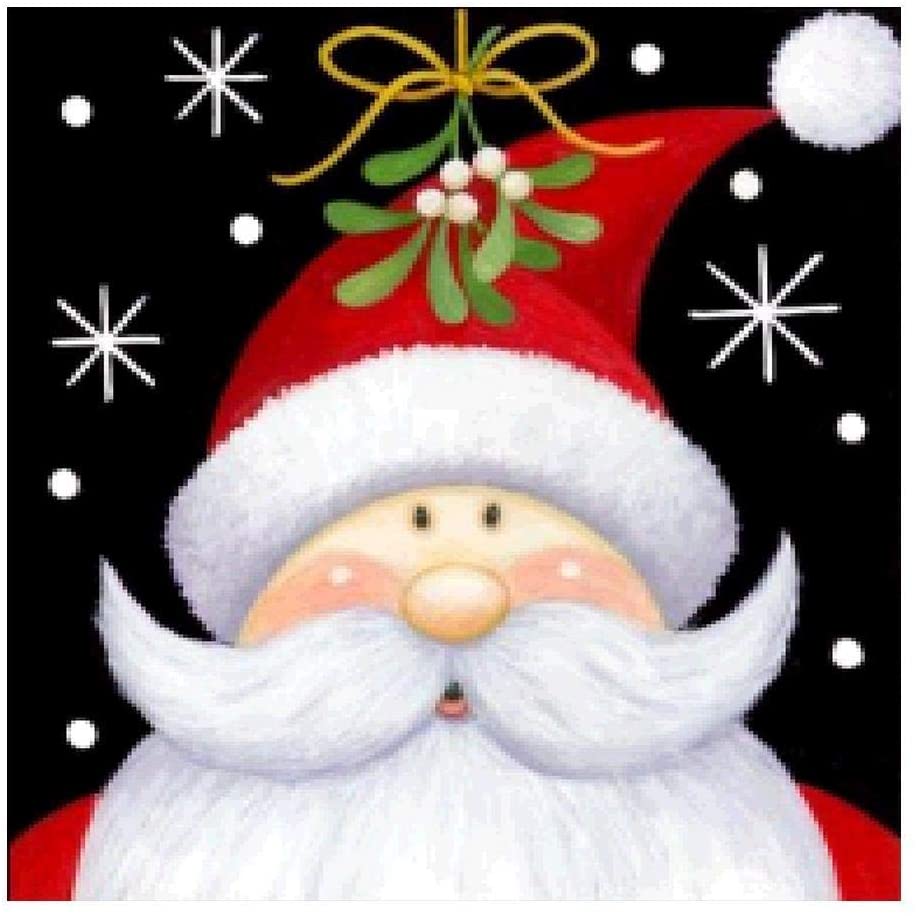 Ho, Ho, Ho Holiday Market
SATURDAY, NOVEMBER 7, 2020

10:00 am - 2:00 pm
Hampton Inn by Hilton
401 Westin Oaks Dr.
Hammond, La.



---
ANNOUNCEMENT!!!
Ladies, We hope that all are doing well and have been productive during this strange pandemic the country, and the world, has been dealing with. Since Louisiana has now entered Phase 3, we are so excited that after months and months of quarantine and social distancing, we are finally going to get to have a real, in-person meeting! We will need to continue to be vigilant, mask up and maintain a safe distance, but we are so looking forward to being able to meet again. Of course, if anyone does not feel comfortable attending public meetings yet, we certainly understand. We all have reasons we may feel we cannot expose ourselves or our family members yet, and that is absolutely acceptable.

Wednesday Volunteers will resume their meetings on Wednesday, October 14, 2020 at 10 am, at Murphy's Restaurant in Hammond.

The TVFC Council will resume our Council meetings on Tuesday, October 20, 2020 at 9:30 am at the Tourism Center in Hammond.

Sunshine Ladies will resume their monthly meetings on Thursday, November 5, 2020 at 10 am at the Barbeque Station restaurant in Independence.

We can't wait to see your beautiful faces again! Hope to see you there!


---



JULY 2020



Sunshine Ladies are still helping our neighbors with masks and ear savers as the state-wide mandate for masks continues. Sunshine Ladies President Ann Bourliea delivered both crocheted ear-savers and the headband type of ear-savers to Landmark South Nursing home and Rehabilitation Center in Baton Rouge. Although they are not in Tangipahoa parish, they are close neighbors and we were glad to be able to help them out! Thank you, Ann, for delivering these to our neighbors!


---


On Wednesday, July 23, members of Sunshine Ladies, a part of Tangipahoa Volunteers For Family And Community, visited Serenity House, the homeless shelter in Ponchatoula. We collect items for use by our homeless population all year long, and bring these collected items to them once or twice a year. On this visit, TVFC donated 47 bags of clothes, including underwear, socks, and shoes. Socks are usually one of the most requested items at homeless shelters. Donations of underclothing such as socks and underwear must be brand new items; clothing and shoes may be gently used. We also brought items for personal hygiene, such as Kleenex, bath soaps, and deodorants for both men and women,

In addition, we bought food items for the residents, including things like industrial sized jars of peanut butter and jelly, cans of tuna fish and chicken breast, boxes of saltine crackers, cans of coffee, sugar, and coffee creamer, some much-needed kitchen items, as well as things like napkins and laundry detergent. To help keep the residents safe during this continued Covid pandemic, TVFC also donated 30 homemade cloth face masks to our "friends without addresses" who are currently living at the shelter. These items were all delivered while following state protocols.

Pictured are Ann Bourliea, Ms. Francis Seymour, the owner and manager of Serenity House, Sheila Gagliano, and Mr. John, who is one of the residents at the house.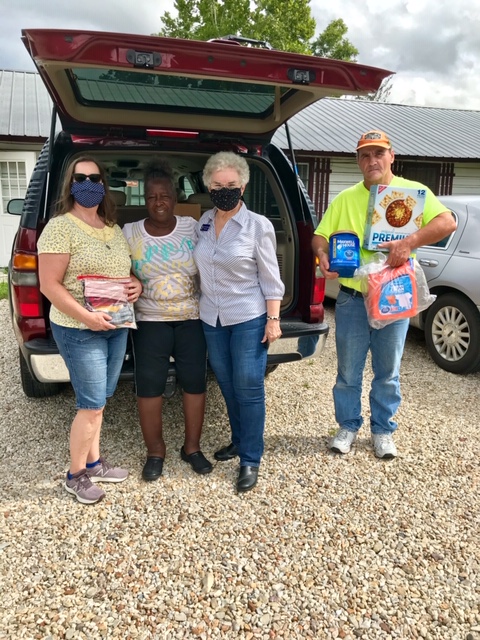 ---


Tangipahoa Volunteers For Family And Community are proud to present this year's $1000 scholarship to Jordan Mazzeno of Hammond. Jordan is a 2020 graduate of Ponchatoula High School. He will be attending Louisiana Tech University in Ruston this fall. Jordan plans to study engineering and obtain a degree in Agricultural Engineering. He has been very active in 4H, winning many, many awards.

Any graduating senior in Tangipahoa Parish who has participated in the 4H program is welcome to apply for TVFC's yearly scholarship. The scholarship may be used for any Louisiana accredited college or trade school. We are proud to help support the 4H program in this way. For more information or to request an application, contact President Marie Heck at marie_heck@yahoo.com or contact your 4H club. You may also visit our website at http://www.tangivfc.com

Pictured below is our 2020 Scholarship winner Jordan Mazzeno, practicing social distancing with Scholarship Chairman Jean Hebert and TVFC President Marie Heck.The second picture is Jordan, showing off his scholarship.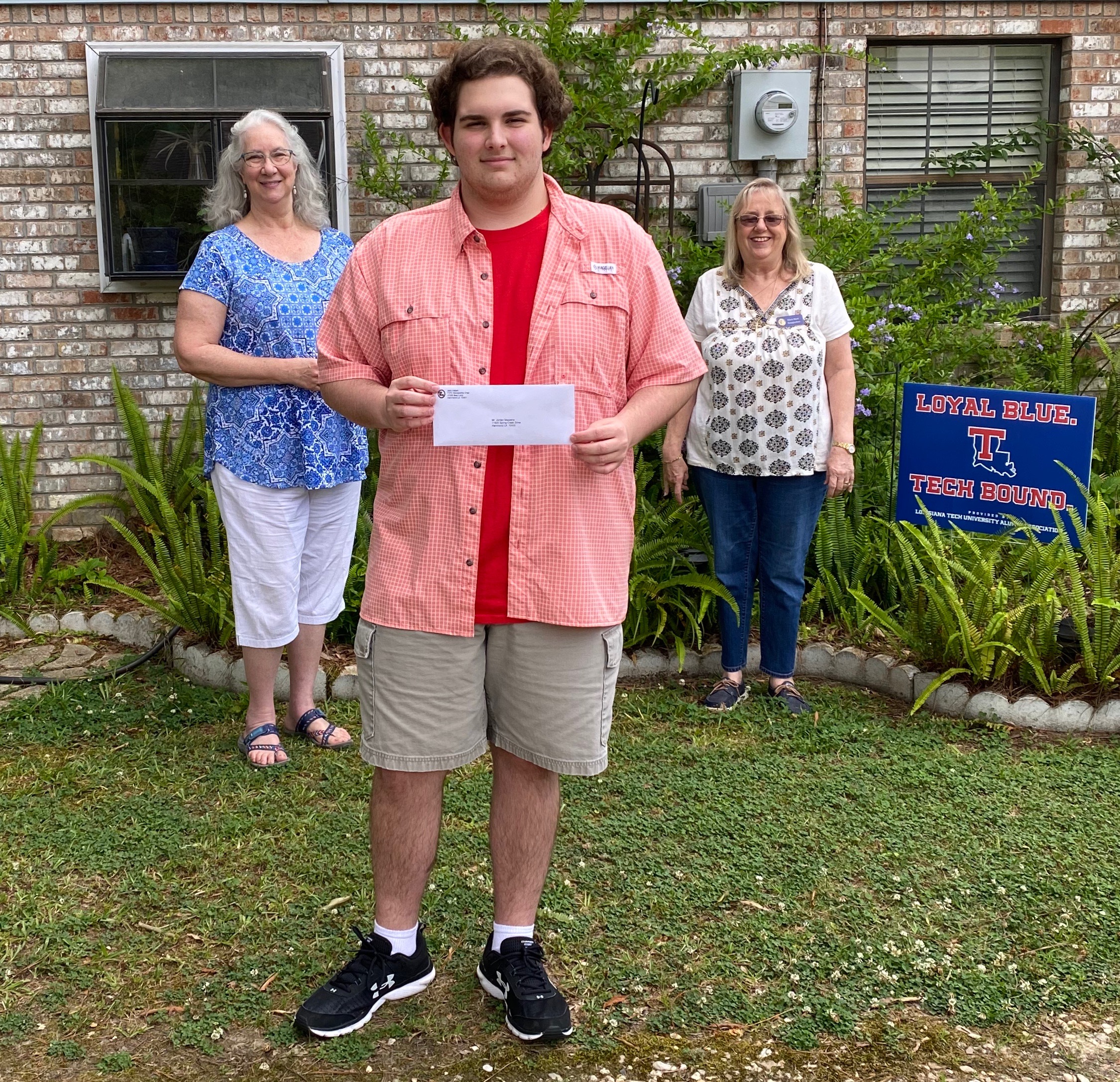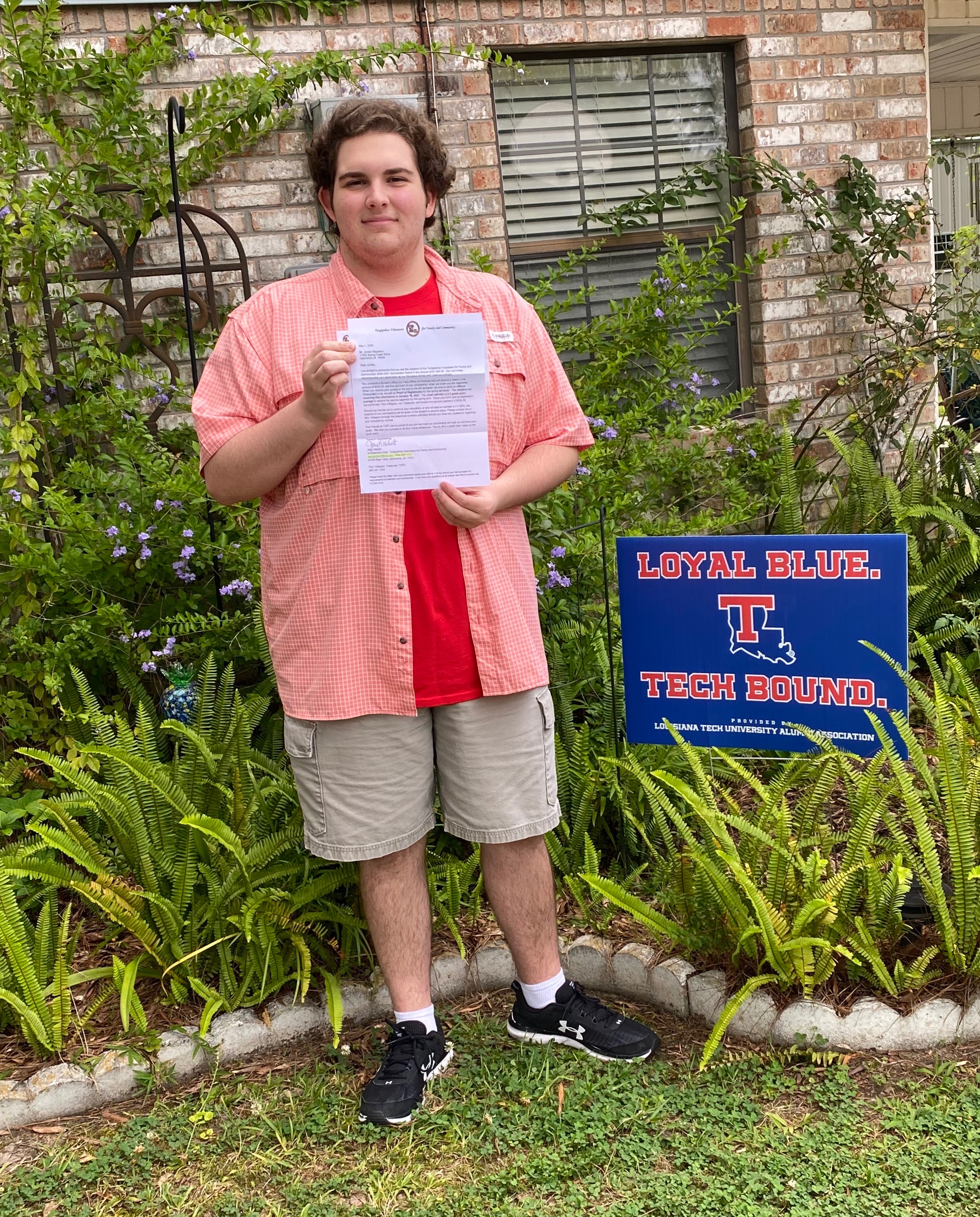 Several members of the Sunshine Ladies made a long overdue (because of Covid 19) delivery to the Women's Pavilion at North Oaks Hospital. They delivered 100 Raise-A-Reader packets, 25 from Wednesday Volunteers and 75 from Sunshine Ladies. The hospital provides these packets to new moms following the birth of their new babies. The packets include a new children's book, a handmade burp pad, a stuffed cloth teddy bear, and information on the importance of reading to childrem.
In addition to the packets, the Sunshine Ladies also collected 185 pairs of brightly colored socks, which TVFC members refer to as "crazy socks", nine handmade whimsical pillowcases, 25 stuffed cloth teddy bears, 10 coloring books and 20 boxes of crayons. These items are utilized by the hospital to help cheer up pediatric patients during their hospital stays.
Pictured here are Linda Jo Kincaid from North Oaks hospital, and TVFC members Anita Murray, Sunshine Ladies President Ann Bourliea, and Sheila Gagliano.


---
JUNE 2020
Tangipahoa Volunteers for Family and Community gave free jambalaya lunches to first responders and law enforcement officers at the Hammond Police Union Hall on 201 Natchez St. on Thursday, June 4th. We fed 139 police and fire personnel, 60 UPS workers, 50 Options members and 30 Quad Vets members.
These meals were made possible through donations received for masks made by club members during this pandemic. At this time, we have made and distibuted over 3300 masks all over the parish. Every donation we received goes back into the community, through our various programs like this meal for our hometown heroes, or our Scholarship program, or one of our other community service projects. The volunteers voted to use the donations we received to show appreciation and support for our fine law enforcement officers, firefighters, and first responders and their work during the pandemic. The food was purchased through a local business that has been badly hurt, as all local businesses have, by the long forced closure orders. This is one more way for TVFC to assist a small business in our community.
In addition, look for our article this month in Tangi Lifestyles magazine. We are so proud to be included in this great magazine about our parish! The article focuses on our mask-sewing and distribution efforts, as well as some basic information about our club and many of our other community service projects. If YOU are looking for a way to give back to your community, please contact us - or come to a meeting to see what you can do to help!


#backtheblue
#welovetangipahoa
TANGIPAHOA STRONG!



---
Pictured below are TVFC President Marie Heck, Maureen Felder.
Anita Murray, Carla VanVranken, Sunshine Ladies President Ann Bourliea,
Wednesday Volunteers President Jean Hebert, Pam Villagran, and
Officer Susie Cambre, who made this event possible. Many
thanks, ladies, for all your hard work to serve our local heroes!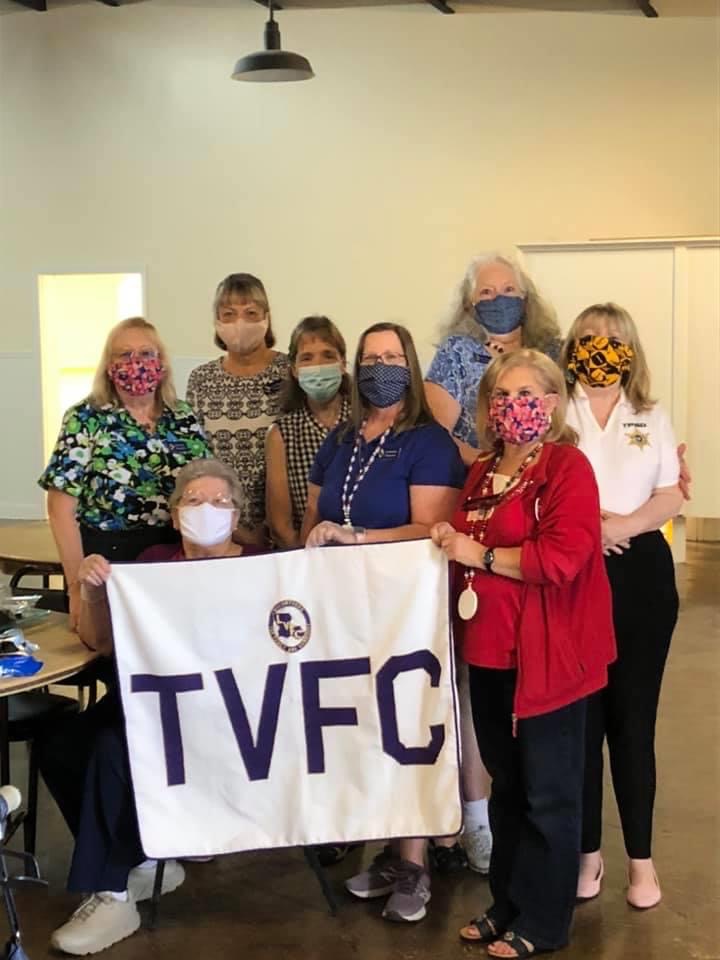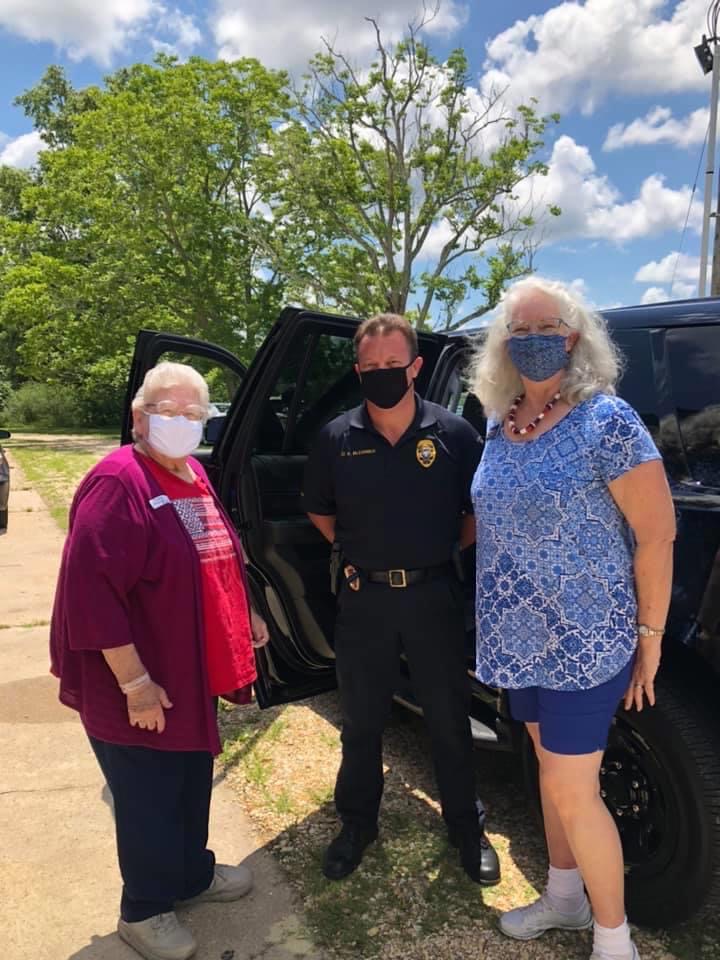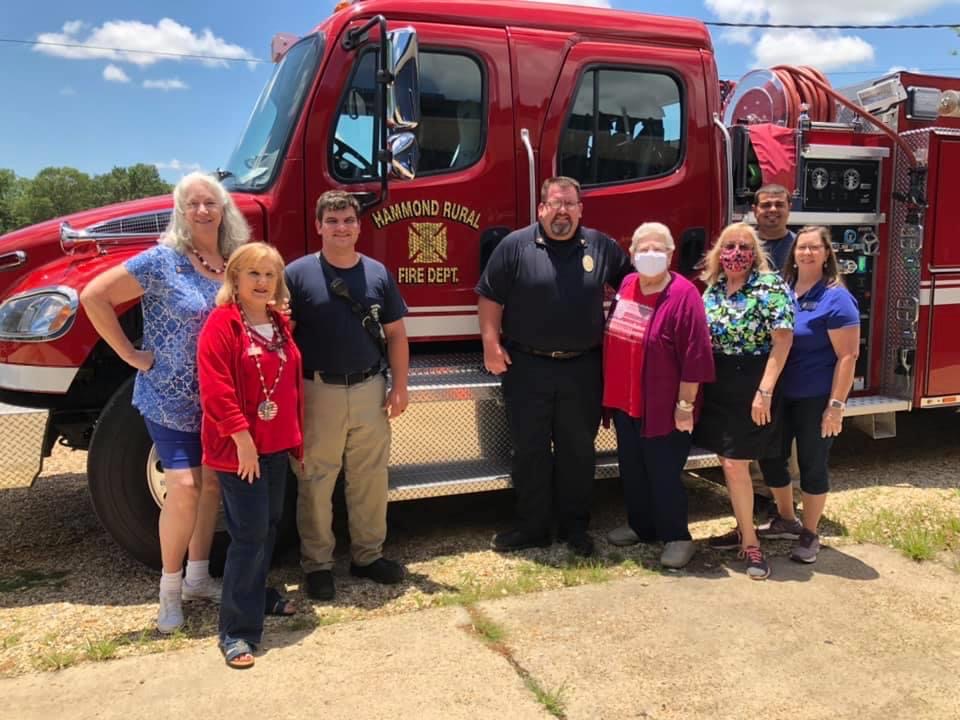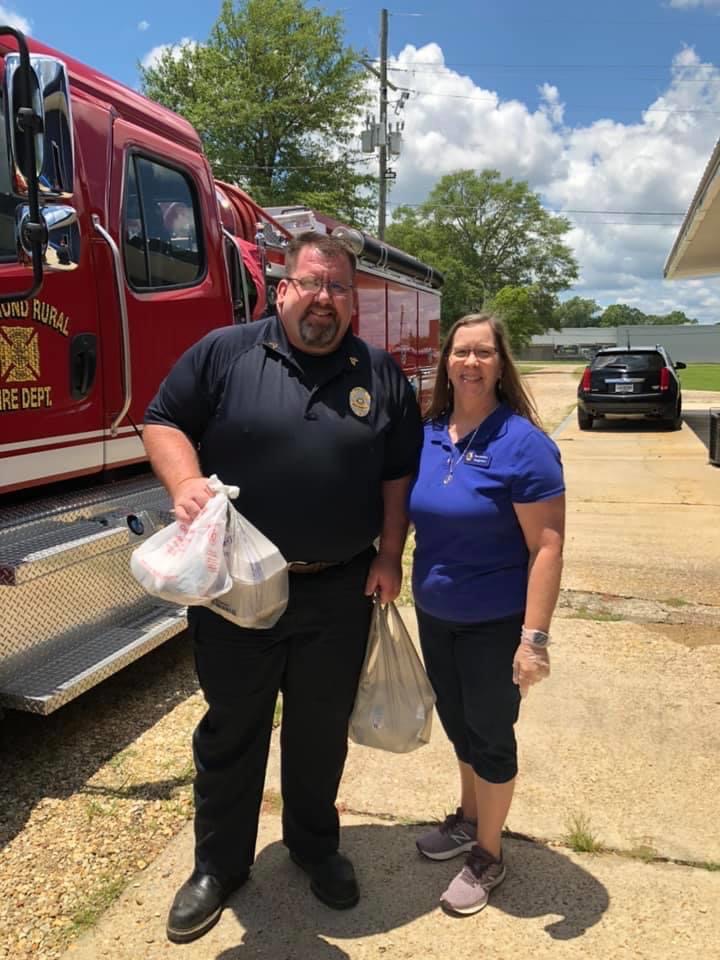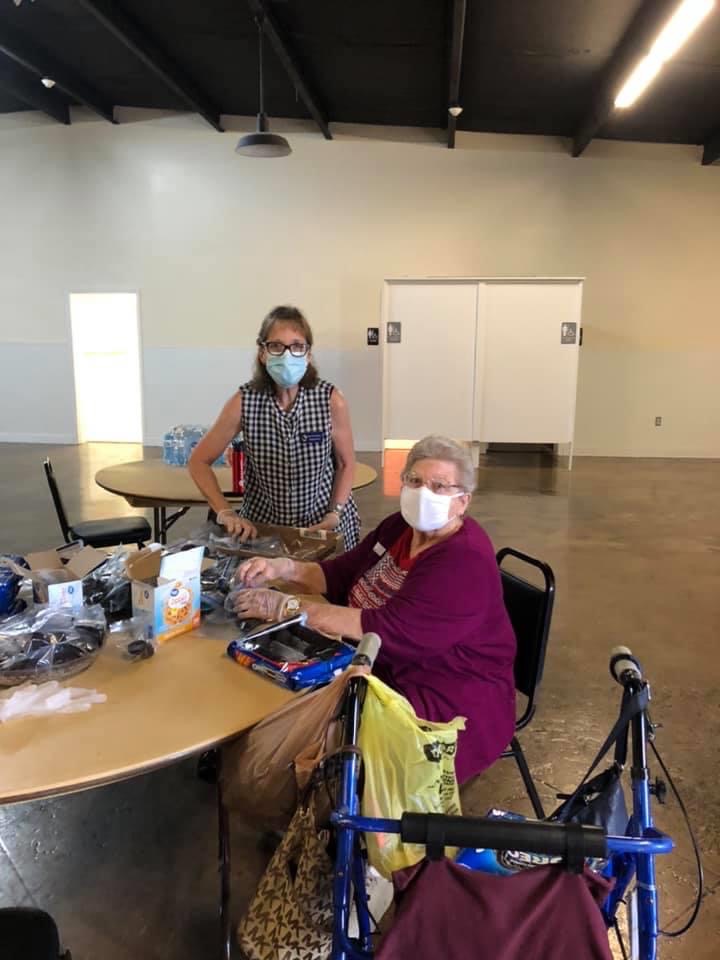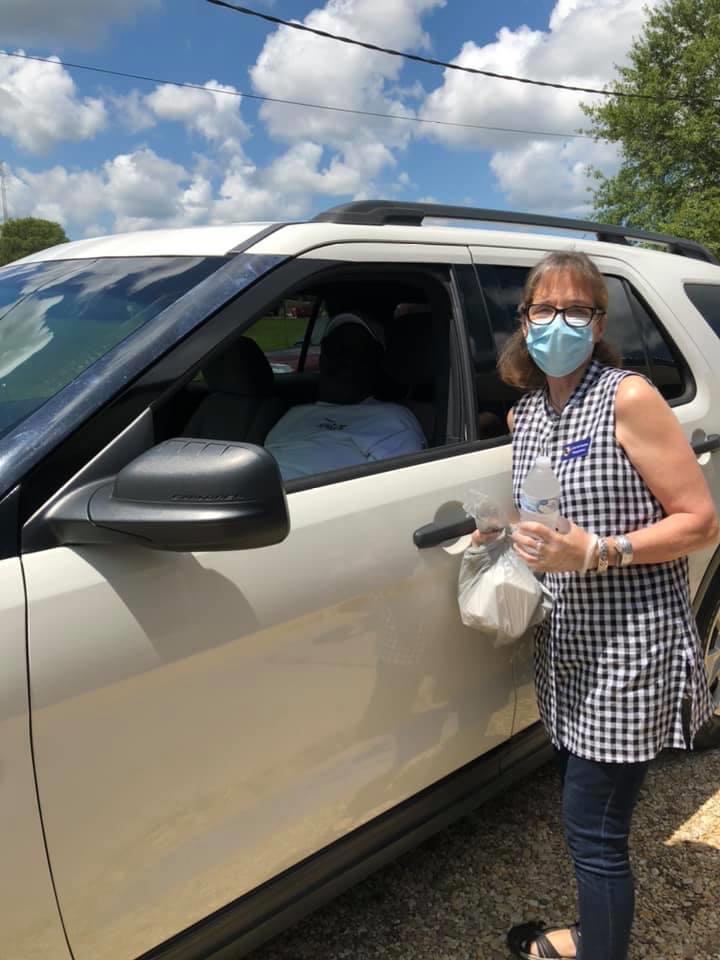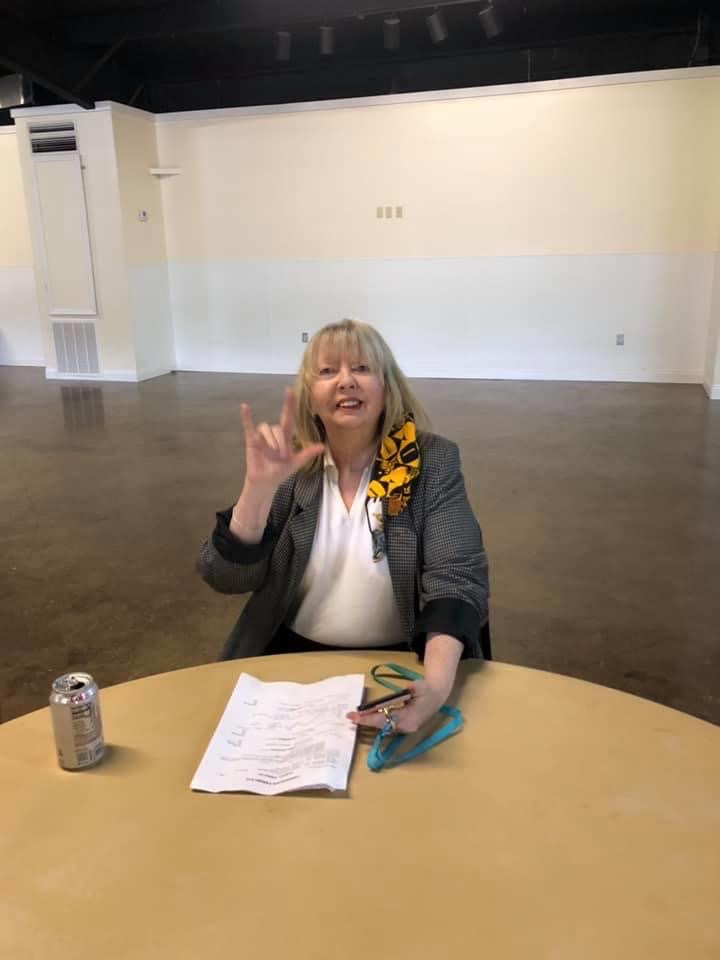 ---
May 2020
| | | |
| --- | --- | --- |
| Although many of our plans for the upcoming months have either been cancelled or put on hold due to this pandemic, we are going forward with one of our biggest projects, which is our annual scholarship award. We are so proud to be able to offer our Scholarship to a deserving senior every year. To help us fund our Scholarship program, we are raffling off this hand-made gem-tones quilt. This beautiful full size quilt was started by former club member Mary Lou Batty, who passed away in 2019. Her family donated the finished squares, and club member Ms. Carla VanVrancken graciously finished the task in Ms. Batty's honor.Tickets are $1.00 each, and can be purchased from any member. | | |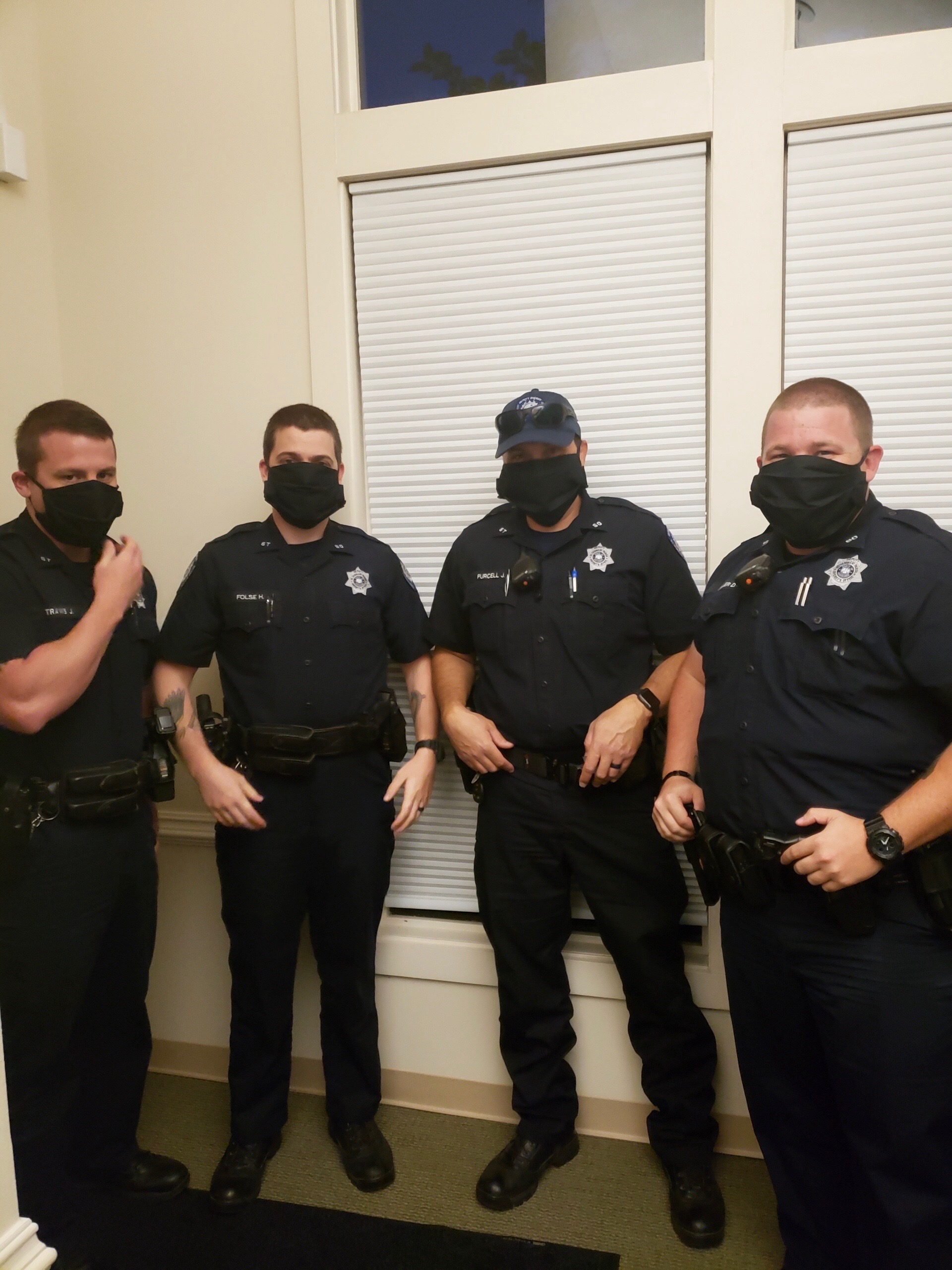 Left: As of now, our members have made and delivered over 3300 masks to our community. We are proud to be able to help in this way. Pictured are Bedico police officers wearing our masks.

Right: Members met for an Executive Board meeting following social distancing protocols. Those in attendence were Sue Nelson, President Marie Heck, Donna Bouterie, Gloria Messenger, Pam Villagran, Kathy Brandon, and Ann Bourliea. Not pictured is Jean Hebert, photogragher.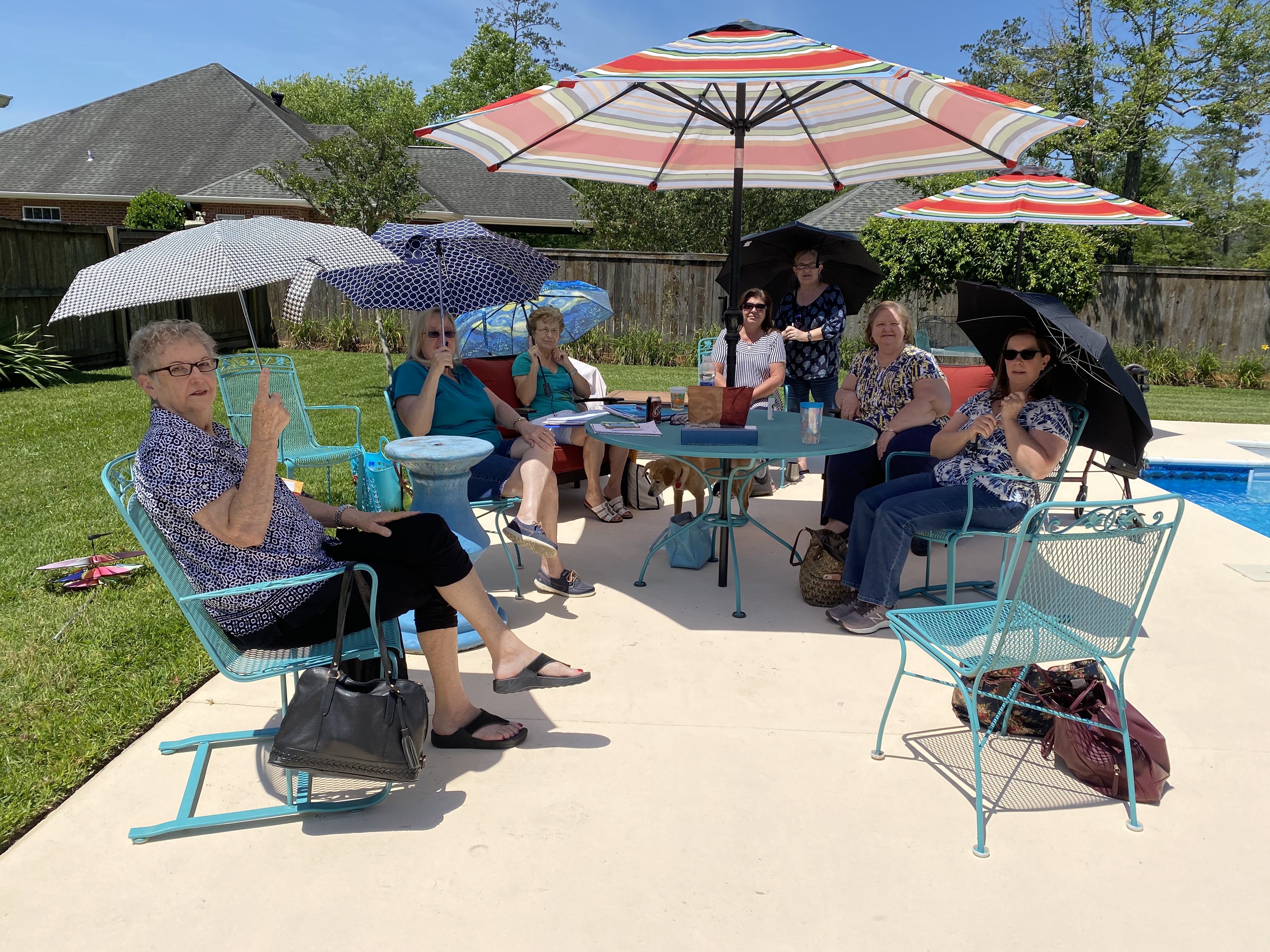 ---
April 2020



Here we have Sunshine Ladies President Ann Bourliea delivering headbands and straps to Northshore Rehabilitation Hospital. Meanwhile, Sheila Gagliano was delivering masks to Mary Bird Perkind Cancer Center, Options, and the Independence Police Department.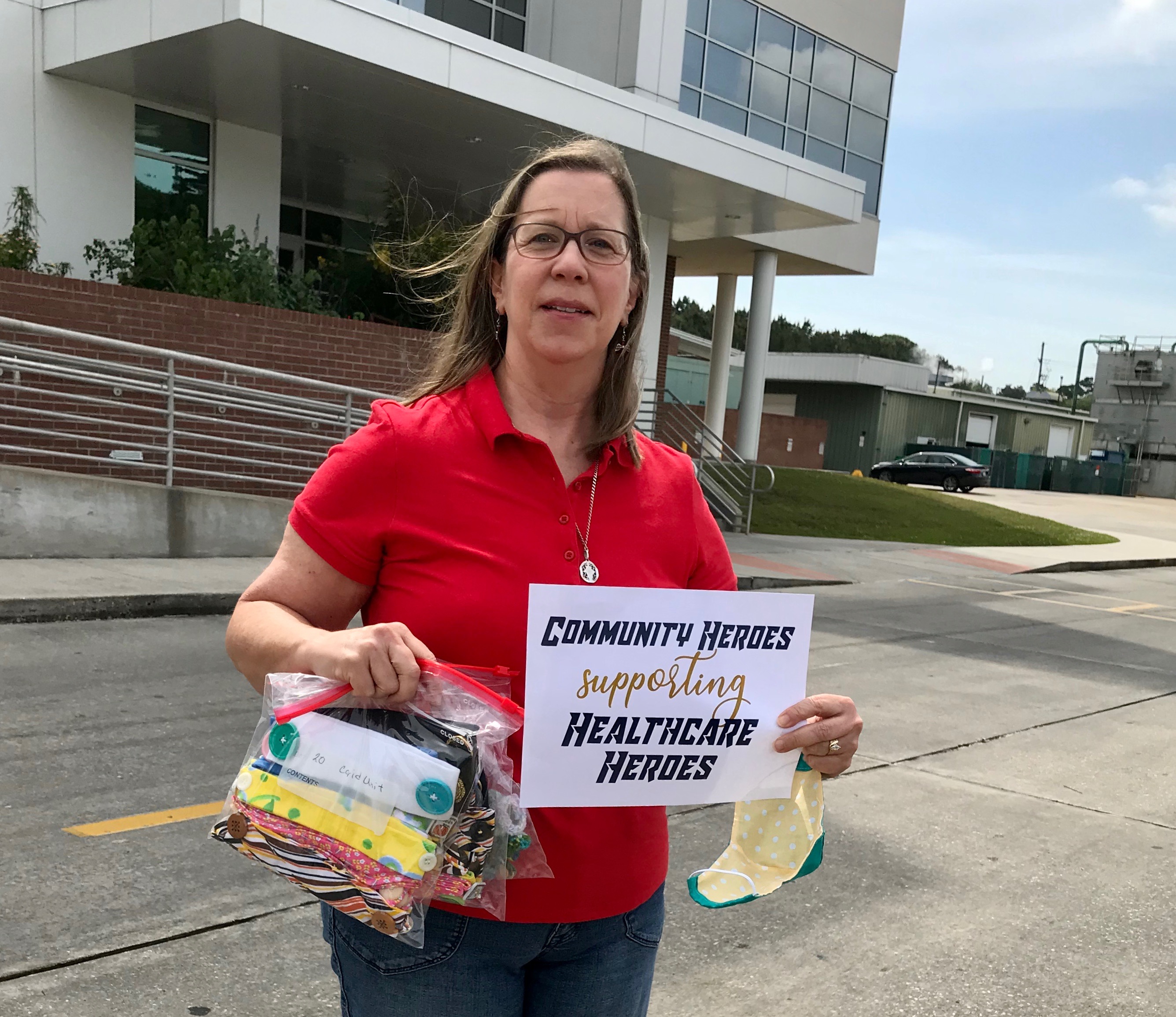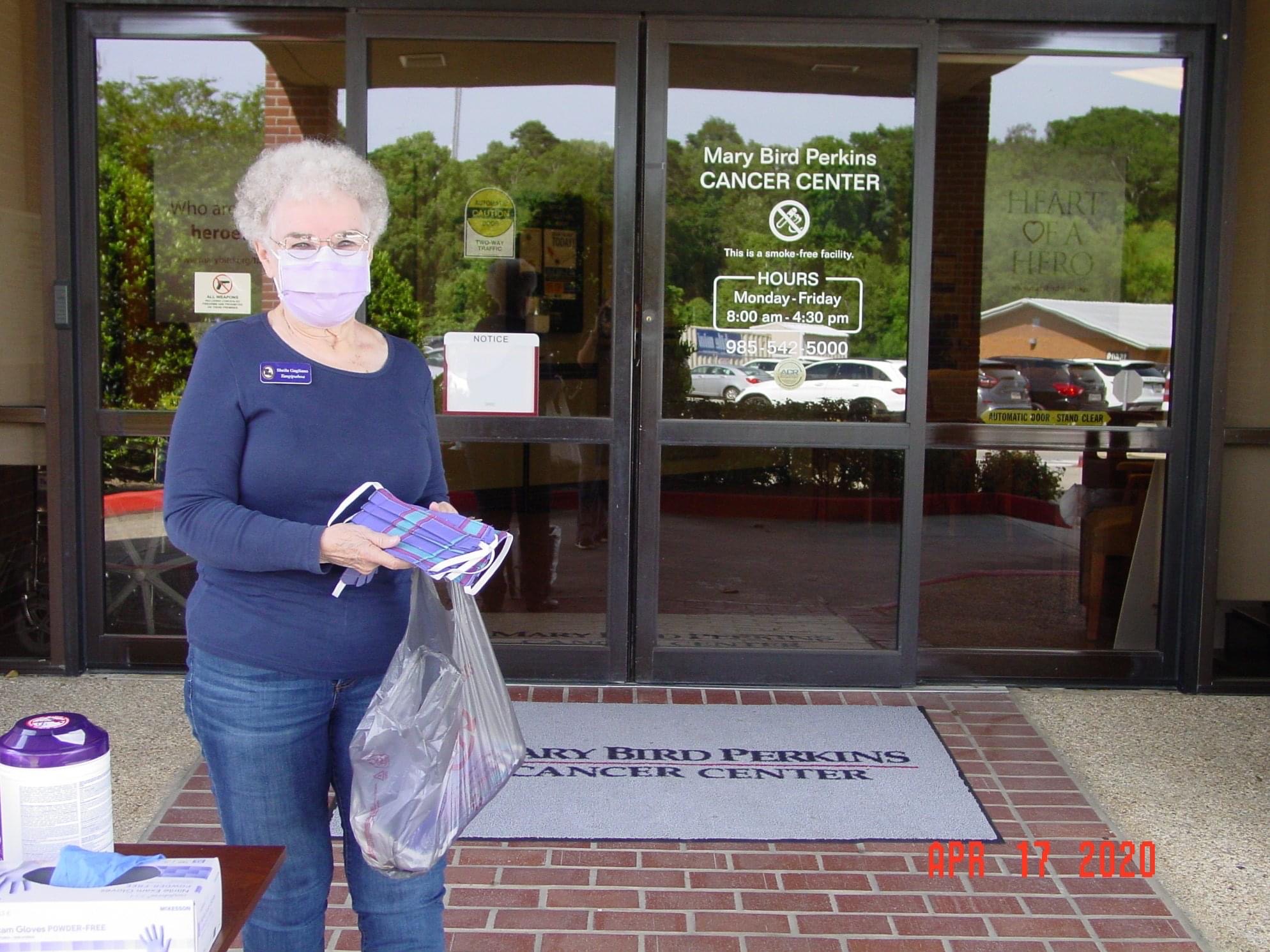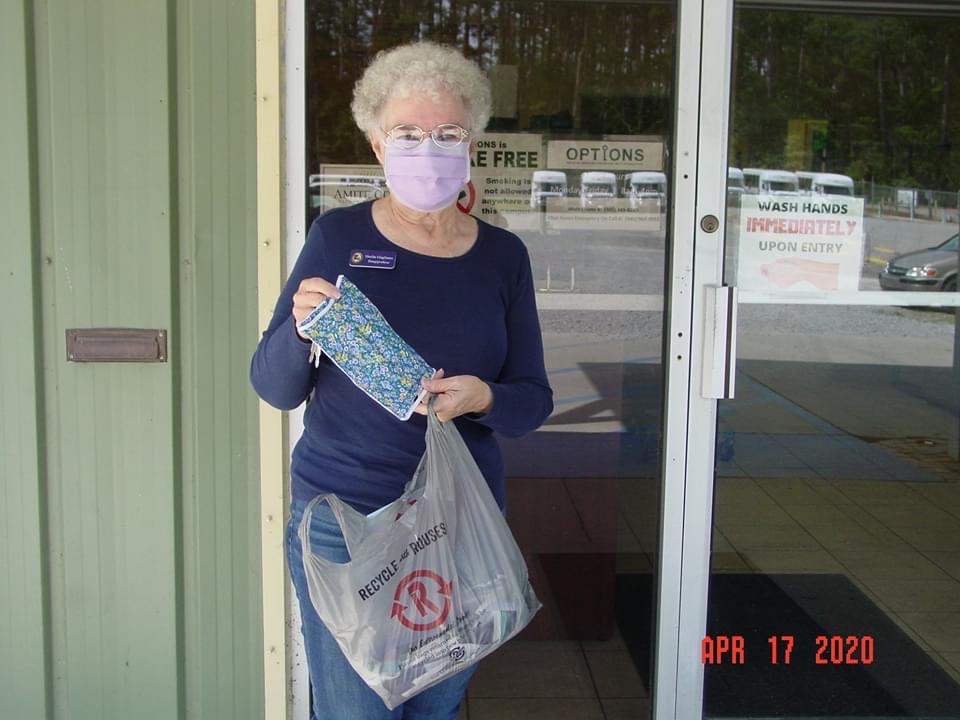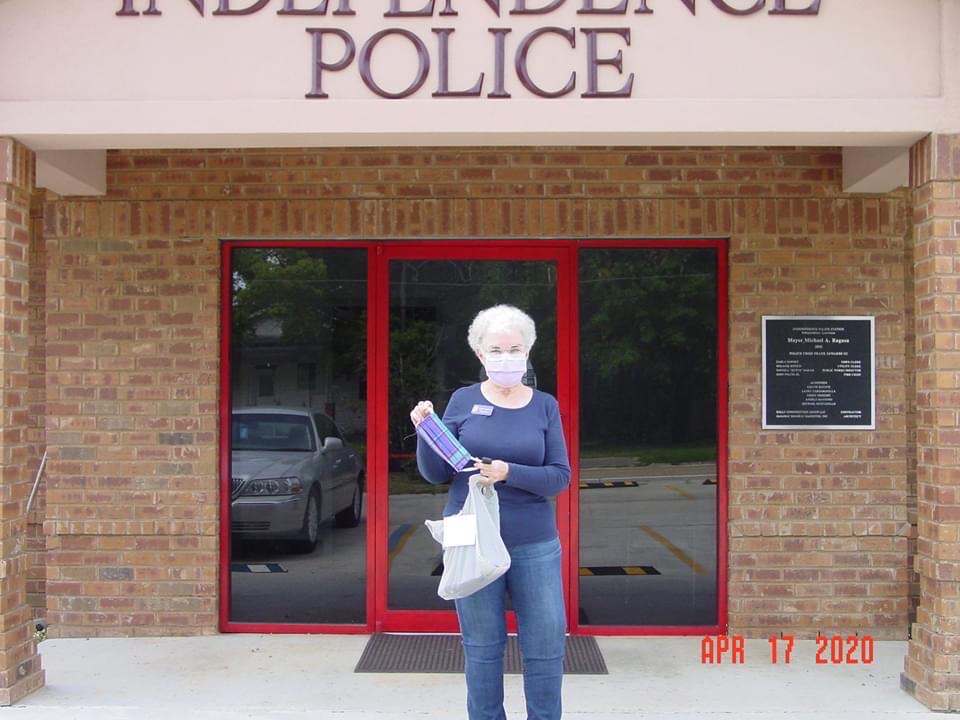 ---
Pictured below are TVFC President Marie Heck, along with members Anita Murray
and Kathy Brandon, donating 100 masks and 100 teddy bears to the Tangipahoa
Parish Sheriff's Department. Sergeant Vic Ferrara graciously picked up these donations,
but declined to have his picture taken. The teddy bears are used by the Deputies to
reassure and comfort children they encounter on the job. (BTW, we also donate these
teddy bears to Acadian Ambulance, to give to the children they transport to the hospital.)
Also pictured are 100 of the masks made by Malinda Sanchez, and some of our teddy bears.

---
Corona Virus Mask Update
April 13, 2020



Our members have delivered over 1000 masks so far, and are still busy sewing, as the need is so great. We have had requests from the hospital, all our nursing homes, our police and fire departments, the cancer center, and even private businesses! One of our members, Carla Van Vranken, has made and delivered over 500 masks, with the help of her daughter Hanna and granddaughter Ella! Even members who do not sew have helped by donating materials and cutting out the masks for others to sew. We certainly appreciate the help! Pictured below are members Malinda Sanchez and Kathy Brandon and TVFC President Marie Heck hard at work at their sewing machines!
Pictured here is Carla Van Vranken, working on some of the many, many masks she has made and delivered. She had help from her daughter Hanna and granddaughter Ella, who washed and ironed fabric and cut out masks for her to sew. Also pictured is Sunshine Ladies President Ann Bourliea, hard at work sewing headbands with buttons. The elastic on the masks can then be slipped over the buttons, relieving the pressure on the ears. She was assisted by her daughter Rebecca and mother-in-law Joyce Bourliea. These were donated to Northshore Rehabilitation Hospital. The crocheted straps were donated by her friend Joni.


---
While the state of Louisiana continues to shelter at home due to the corona virus outbreak, members of Tangipahoa Volunteers For Family And Community have still found a way to help our community during the crisis. In mid-March, North Oaks Health System sent out a call asking if any ladies could sew masks for their doctors and nurses, to help their personal protective equipment last longer. Karla VanVranken, Maureen Felder, , Anita Murray, Malinda Sanchez, Kathy Brandon, and Marie Heck whipped out their sewing machines and got busy. Marie then made arrangements to pick the masks up following the state's safety protocols, and deliver the first set of masks to the hospital.

After making hundreds of masks, we heard from many nurses that the elastic was making their ears very sore after wearing the masks for so many hours. Sunshine Ladies President Ann Bourliea began making headbands with buttons on each side. The nurses can then slip the elastic around the buttons, so there is no pressure on their ears. Ingenious solution!

Members of TVFC are still sewing, as there is still a great need for these masks to help protect our healthcare workers who are on the front lines in the fight against this virus. While our meetings and activities are currently suspended due to the shelter at home order, Tangipahoa Volunteers For Family And Community will resume our regular activities as soon as it is safe to do so.

Pictured below are some of the masks for North Oaks Medical Center, And President Marie Heck making the first delivery to the hospital.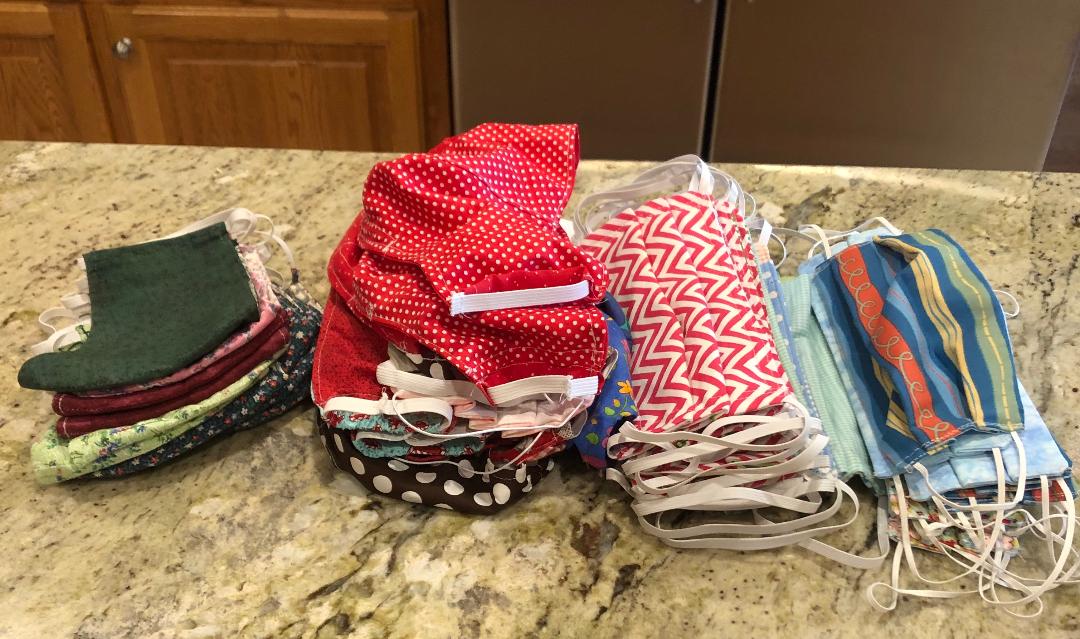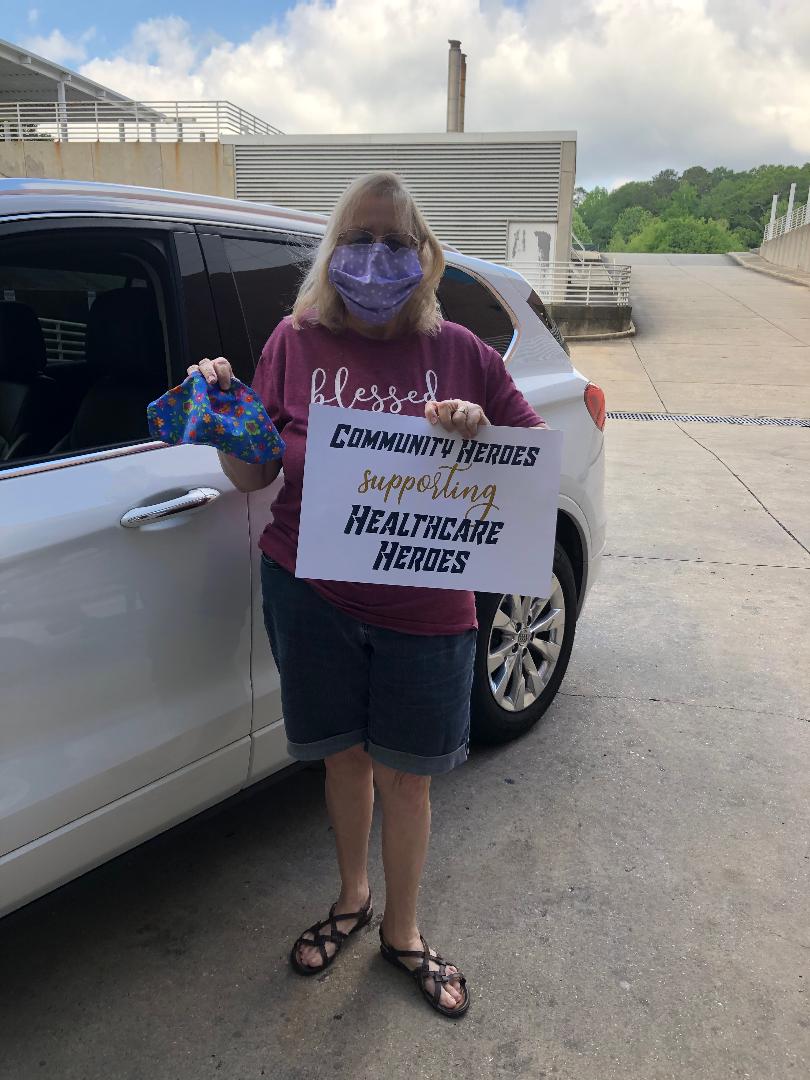 ---
One of our greatest projects every year is our Scholarship Project, which is open to graduating seniors who have been involved in 4H. Last year, we were very pleased to be able to offer not one but two scholarships to deserving seniors. We hope to be able to do the same this year. The deadline for applying for a scholarship is March 30, so anyone interested needs to get their application in soon!

To help fund our scholarship project, we will be raffling off this beautiful hand-made quilt. Anyone interested in purchasing tickets may contact any member of either Sunshine Ladies or Wednesday Volunteers.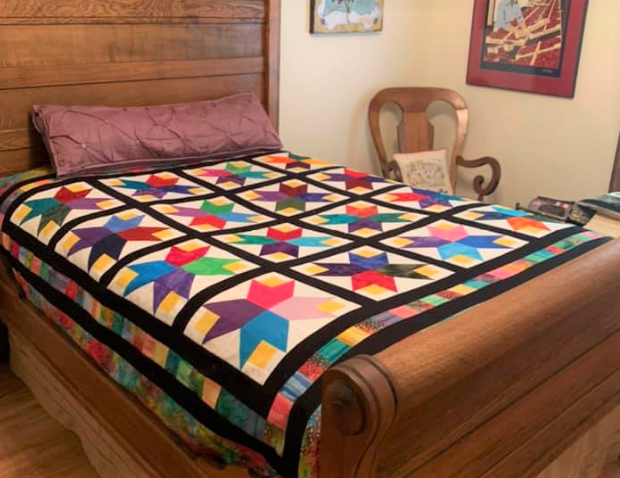 ---


















About Tangipahoa Volunteers
For Family And Community




Tangipahoa Volunteers for Family And Community is the all-volunteer arm of the LSU Ag Center Extension Service. We work with them in many ways to help families in our community. Together, we assist with promoting and judging the 4H programs, and various health and nutrition projects. Each year we also offer a college scholarship to a graduating senior from our Parish who has participated in 4H programs. This year, we were able to award two scholarships.

Formerly known as Homemaker's Club, TVFC has been in existence as long as the Extension itself. We are part of a state-wide organization originally formed in 1936. Our purpose now is the same as it was then: to serve and strengthen families in our community. We help serve the people of Tangipahoa Parish with programs encompasssing Family Life, Literacy, Environmental, and International Projects.

Tangipahoa Parish is one of 15 parishes that belong to the statewide organization, Louisiana Volunteers for Family and Community. TVFC now has two branches, Sunshine Ladies and Wednesday Volunteers. Sunshine Ladies meetings are on the first Tuesday of the month at 10 am, either at a member's home or a local restaurant. And as their name suggests, Wednesday Volunteers meet on the first Wednesday of the month.

We would be glad to welcome you to any of our meetings as our guest so you can learn about some of our projects. Send us a message or call the LSU AG Center Office at 985-748-5462 if you would like further information!
---
PAST PROJECTS
Take a look at some of our many community projects!